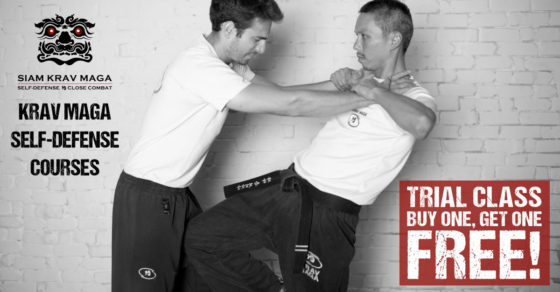 We are starting a new absolute beginner session. Therefore we are glad to offer you a special deal. Come enjoy a trial class!
– TRIAL CLASS OFFER –
BUY ONE, GET ONE FREE!*
COME WITH A FRIEND
AND PAY ONLY FOR ONE (500฿)
OR
COME ALONE AND GET A FREE CLASS FOR YOURSELF,
TO USE BEFORE 28 SEPTEMBER.
*[Hurry up! This offer expires on 15 September 2018]
Join us for a trial class.
Find a friend to come with you, share the offer:
If you're looking to
get in shape, improve self-confidence, eradicate fear, become stronger mentally and most importantly learn to protect yourself and your beloved ones

, then Krav Maga is for you!
Check out below if you wish to know more about Krav Maga,
Krav maga is acknoledged to be the best modern self-defense system in the world. It was developed for the Israeli army, then has been adopted by security forces of many countries to train their soldiers, policemen and law enforcement groups (US FBI agents, French GIGN and RAID…).
Nowadays a large and growing number of civilians, women, men and children of all ages are training Krav Maga worldwide.
Indeed it is a highly effective system focussing on efficiency, using practical and logical techniques for real life based situations.
What Krav Maga teaches you?
You will learn how to react simply, quickly and efficiently to a variety of real life threatening situations. Such as surprise attacks and threats with or without weapons, grabs, chokes, bear hugs, hair pulling, agressions by one or multiple attackers…
But krav maga is not only about self-defense, it also helps you to get in shape, develop coordination, balance and body awareness, improve self-confidence, develop a fighter mindset, handle stress, build speed and agility, eradicate fear, become stronger physically and mentally, and much more…
In other words, it helps you build a better for version of yourself!
What students are saying?
Krav maga students are sharing their experience:
"Not only are we practicing fighting techniques but we also cover how to defuse situations, recognize how criminals choose victims, and train in situational awareness.  Self defense is way more than just fighting someone." – Kevin
"I'm a mother of three young girls and have a husband who travels. I have done martial arts, boxing and fitness training elsewhere, but Krav Maga blends all of these and so much more. I am learning skills and gaining confidence that should the occasion arise, I can protect my family." – Jenn
"Learning krav maga has helped me become more much more confident in dealing with people and unknown conditions." – Tom
Join us for a trial class.
Find a friend to come with you, share the offer:
[Hurry up! This offer expires on 15 September 2018]