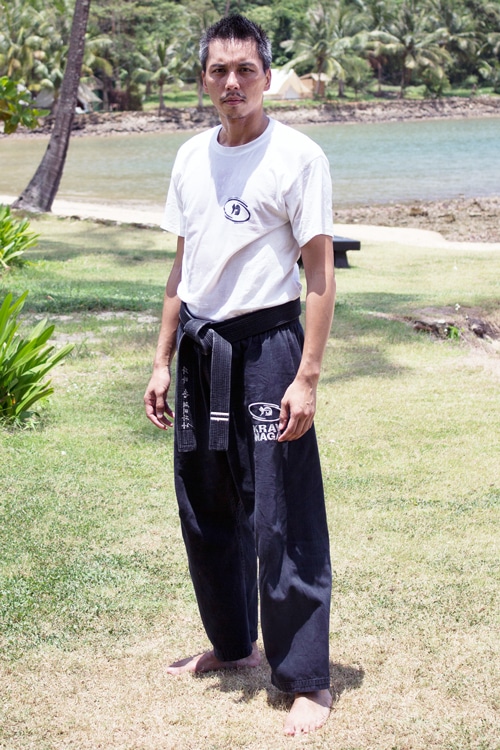 SIAM KRAV MAGA classes are taught by Stéphane Phimmasone (Saysana), a French certified instructor from the FEKM (European Federation of Krav Maga), one of the five main Krav Maga organizations worldwide*.
Stéphane started martial arts at 11 years old with Kung Fu then he practiced Taekwondo for seven years and obtained his Black belt 1st dan in 2001.
He started his Krav Maga journey in 2007 with Grand Master Richard Douïeb, one of the highest Krav Maga representatives in the world, in the first Krav Maga school created in Paris in 1987 – Krav Maga Paris Trevise -.
Stéphane has been practicing Krava Maga intensely for over 10 years. He is 2nd Darga black belt and experienced instructor.
One can obtain a black belt only after passing a national test after a minimum of 5 years of practice. That aims at providing qualified and serious practitioners.
To get an FEKM instructor's certification, the candidate must have the grade of black belt (5 years minimum of practice) and must pass an exam (theoretical and practical). That aims at providing qualified and serious instructors. You shouldn't trust instructors who got some kind of krav maga certification just by attending a few seminars, those can't be serious. [Learn more about the certification]
*The 5 main recognized organizations are: FEKM, IKMA, IKMF, WKMF and Federaçao Sul Americana de Krav-Maga. The FEKM is the largest federation in terms of memberships.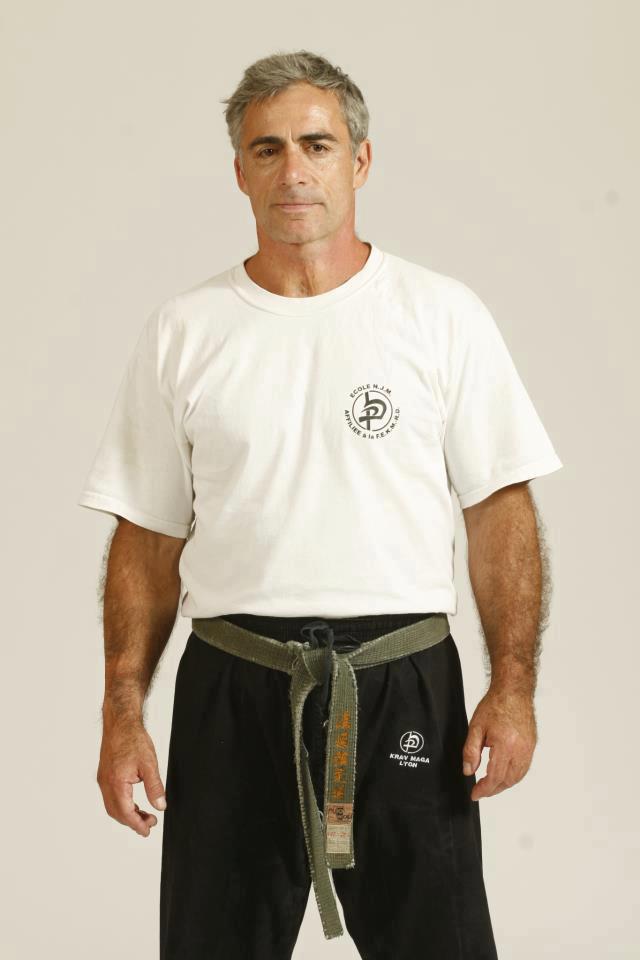 Richard Douied has been appointed by Imi Lichtenfeld, the founder of Krav Maga, as the official Krav Maga representative in Europe in the late 1980s. He created the European Federation of Krav Maga (FEKM) in 1997.  He is one of the highest Krav Maga personnalities in the world.
Born in Jerusalem, he lived in France until the age of 16 years old when he decided to go back to Israel. As a young man enlisted in the Israeli army, he was trained by top military instructor, and Krav Maga founder, Imi Lichtenfeld.
Richard Douieb devoted himself to Krav Maga and got his instructor qualification in Israel. He opened his first school in 1987 in Paris – Krav Maga Paris Trevise -.
He became a reputed Krav Maga professor in Europe, Black belt 6th dan, federal and military graduate of the State of Israel, and the official and exclusive GIGN trainer (French elite police forces) in self-defense from 1993 to 2005.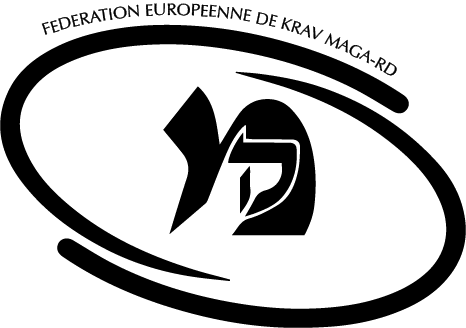 The European Federation of Krav Maga (FEKM) was created in 1997 by Richard DOUIEB, who has been appointed by Imi Lichtenfeld to represent Krav Maga in Europe.
FEKM is the largest Krav Maga federation in the world in terms of memberships: over 20,000  members from 12 European countries in 2017.
The FEKM is composed of numerous commissions managed by FEKM executives who have over 20 years of practice and extensive knowledge of the discipline.
The FEKM delivers Darga (black belt 1st to 6th Darga).
Follow Siam Krav Maga on Instagram
Follow us on Instagram to view our stories
This error message is only visible to WordPress admins
This endpoint has been retired
Error: No posts found.
Make sure this account has posts available on instagram.com.